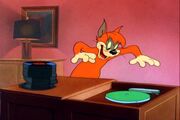 Lightning is an orange cat who first appeared in the 1948 short Old Rockin' Chair Tom as Tom's rival. Lightning is named as such because in his first short, he practically moved at the speed of lightning. In later cartoons, Lightning often appeared as one of Tom's alley cat buddies/rivals. He also appears in Switchin' Kitten. Fans have occasionally confused Lightning with Meathead, though the two are not the same and have appeared side-by-side in two cartoons.
Ad blocker interference detected!
Wikia is a free-to-use site that makes money from advertising. We have a modified experience for viewers using ad blockers

Wikia is not accessible if you've made further modifications. Remove the custom ad blocker rule(s) and the page will load as expected.