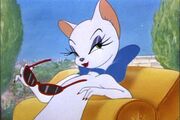 Toodles Galore Lena Cat is a fictional character in Tom and Jerry. She is white colored and usually wears a neck ribbon and is known to be a very beautiful cat. Her first appearance was in a 1946 Animated short "Springtime for Thomas".
Toodles is first of many girl cats that Tom falls for over the course of Tom and Jerry. She does not speak and rarely moves about.
Ad blocker interference detected!
Wikia is a free-to-use site that makes money from advertising. We have a modified experience for viewers using ad blockers

Wikia is not accessible if you've made further modifications. Remove the custom ad blocker rule(s) and the page will load as expected.