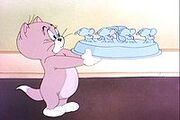 Topsy is a grey kitten. He is one of Tom's alley cat friends/foes, although in one cartoon he befriends Jerry. He first appeared in Baby Puss; his final appearance in the original theatrical shorts was in Scat Cats. He also appears in Tom and Jerry Tales with a more yellowish color than before. In Professor Tom, Topsy is explicitly a house cat; more often (as in Saturday Evening Puss and elsewhere), he is depicted as an alley cat or a cat of unknown origin.
Ad blocker interference detected!
Wikia is a free-to-use site that makes money from advertising. We have a modified experience for viewers using ad blockers

Wikia is not accessible if you've made further modifications. Remove the custom ad blocker rule(s) and the page will load as expected.